Marketing Aesthetics: The Strategic Management of Brands, Identity, and Image
Bernd Schmitt and Alex Simonson
Free Press (Simon & Schuster)
Marketing Aesthetics is about the experiential aspects of marketing. The book focuses on the creation, value, and management of trade dress (sensory experiences). The authors present a framework for understanding consumer perceptions of trade dress, how to manage brands and identity, and how to conduct appropriate research concerning brands, identity, and image. It has been translated into 12 foreign languages.
"No less than a breakthrough… the most important, original marketing book I've read (devoured/digested) in a long time."
From the foreword by Tom Peters, author of In Search of Excellence and The Pursuit of WOW!
"Visual imagery has been the neglected element of branding, usually treated in an ad-hoc manner. Thanks to this pathbreaking book, we now have a more scientific knowledge of how visual imagery works to build strong brands and how it can be actively managed."
-David A. Aaker, Professor of Marketing at the University of California at Berkeley and author of Managing Brand Equity and Building Strong Brands
Selection of Other Publications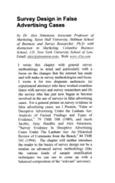 Survey Design in False Advertising Cases Chapter for the PLI 2000 Conference entitled Advertising Law in the New Media Age
Published by the Practising Law Institute
Surveys of Trademark Confusion: Basic Differences
Published in the Intellectual Property Strategist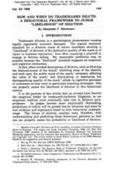 How and When Do Trademarks Dilute: A Behavioral Framework to Judge Likelihood of Dilution
Published in The Trademark Reporter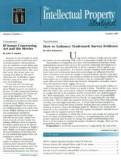 How to Enhance Trademark Survey Evidence
Published in the Intellectual Property Strategist

Processes for Managing Identity, Image, and Design
Published in the Design Management Journal

Warranties and the Law: Use Caution
Published in Sloan Management Review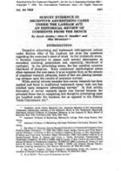 Survey Evidence in Deceptive Advertising
Cases Under the Lanham Act: An Historical Review of Comments from the Bench
Published in The Trademark Reporter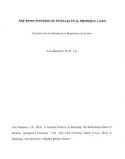 The Effectiveness of Intellectual Property Laws
Chapter in the Handbook of Marketing and Society
Published by Sage Publications
The Experiential Landscape
Published in Marketing Review

Managing Corporate Image and Identity
Published in Long Range Planning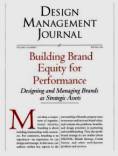 Coupling Brand and Organizational Identities through Partnering
Published in the Design Management Journal

Permissible Puffery vs. Actionable Warranty in Advertising and Salestalk: An Empirical Investigation
Published in the Journal of Public Policy and Marketing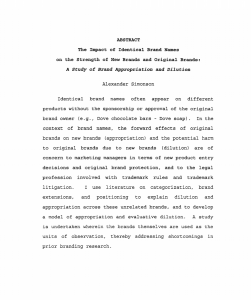 The Impact of Identical Brand Names on the Strength of New Brands and Original Brands: A Study Of Brand Appropriation and Dilution
Published by Columbia University

Unfair Advertising and the FTC: Structural Evolution of the Law and Implications for Marketing and Public Policy
Published in the Journal of Public Policy and Marketing

Examining Consumer Losses and Dissatisfaction Due to Broken Sales and Service Agreements
Published in the Journal of Consumer Satisfaction, Dissatisfaction, and Complaining Behavior